Producer: Thomas Z. Shepard.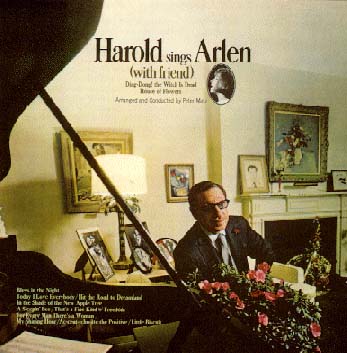 Blues In The Night (4:00)
Little Biscuit (3:57)
Ding-Dong! The Witch Is Dead (1:56)
A Sleepin' Bee (3:42)
In The Shade Of The New Appletree (4:05)
Hit The Road To Dreamland (2:36)
Ac-cent-tchu-ate The Positive (2:43)
My Shining Hour (3:28)
Today I Love Everybody (2:10)
House Of Flowers (2:49)
For Every Man There's A Woman (2:29)
That's A Fine Kind O' Freedom (2:41)

NOTES:


- Barbra does not appear on any tracks in italics.
- This album was a co-release for both artists.
- The Digital Remaster Compact Disc release has the album listed as "Harold Arlen / Barbra Streisand" on the spine. The original LP was released under just Harold Arlen.
- Both of Barbra's songs on this album are available on "Just for the record...." However, the tracks are presented there in their Non-Digitally Remastered form.
- This title is now completely out of print again. If you are looking for one, try eBay.
- The catalog number listed above is for the Compact Disc release from 1993.