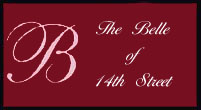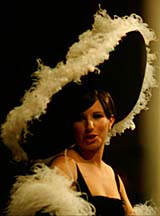 The Belle Of 14th Street was Barbra Streisand's third television special. It was broadcast on October 11,1967 on the CBS Television Network. (Sponsored by Monsanto.) It was a break from conventionalism for Barbra as it marks the first time she ever worked with any (human) guest stars on one of her specials.

The Belle of 14th Street co-starred John Bubbles, Jason Robards and Lee Allen who would team with Barbra later to play Eddie in Funny Girl. No soundtrack was ever released for this special as it was Barbra's lowest ever rated television special.

Animation starts the show as cutouts of barbra dance around the screen in various costumes. She starts out singing the Judy Garland classic "I Don't Care" from the musical "In The Good Old Summertime." As she sings, her cutouts style of clothing regresses from the late 60s back to the turn of the century. With that done, the show is about to begin.
As we return from a commercial break, we see the packed theatre of 14th Street as everyone rushes to get to their seats for the show to begin. Jason Robards and the "beeftrust" girls perform a number. Next is Barbra's first appearance. She performs a number while her clothes detach almost by magic (the strings are incredibly visible) piece by piece. When her song is done she is left in nothing but her underwear and a parasol that has also lost all its cover! On to John Bubbles' Only appearance in the special. He appears dressed in Normal clothing except for the bottom half, He's a chicken! Literally! Then Robards and Barbra appear as an Irish girl and a Scot. They sing the joys of being American. Their son (Lee Allen in his only appearance) joins them onstage as does their daughter and their new baby. It's "Oh so patriotic!"
Intermission time and while away at a commercial, an intermission screen appears and reminds you to re-enter the theatre as the show is about t begin.
As we return from commercial, we are being welcomed back by the master of ceremonies. He is singing the praises of the next act, Mme. Schmausen Schmidt, an opera singer from Germany (played by Barbra of course.) She then begins to sing "Libestraum." Truly one of the highlights of the special as barbra's voice is incredible on this.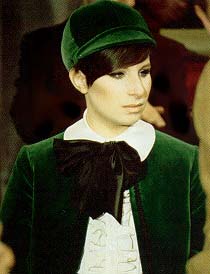 The diva then tells us all of her triumphic tour of America. She proceeds to sing "Mother Macree." While singing, an angelic voice sings out from the crowd. The diva then calls for this person to stand up and sing the song with her. The boy, obviously, is Barbra!
Mme. Schmausen Schmidt's performance is over and she waves goodbye to the little boy and the crowd. Now its time for some theatre!
Jefferson Davis Monger and his wife Roberta Lee Booth are about to enthrall you with "A Taste Of The Tempest." Barbra plays Roberta, a Shakespearean Actress with a deep Southern drawl. Robards plays Jefferson Davis Monger. It truly is quite fun!
Now the moent you've all been waiting for..... the arriva of "The Belle of 14th Street." The headliner of the vaudeville show we've all been enjoying.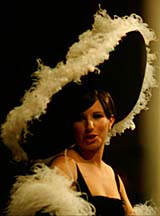 The Belle appears onstage to perform so of her biggest hits for you. She starts off with that old favourite, "My Melancholy Baby." After that, she moves on to show her many voices and emotions in "Everybody Loves My Baby (But My Baby Don't Want Nobody But Me.)" A touch of the softer side as the Belle performs a rather moving rendition of "I'm Always Chasing Rainbows." She continues her melancholy side with "My Buddy" paired with "How About Me?" She tells the audience that the last song was written by a new guy, Irving Berlin. She points out they should remember that name because he's a good man, and "A Good Man Is Hard To Find." Then she hands out some advice for love and life and sings "Some Of These Days."
The show's credits are run over more cutouts of Barbra performing "Put Your Arms Around Me Honey."
All in all, this special is truly unique and is one of Barbra's more interresting specials. I feel that it has recieved a bad rap due to the fact it recieved such low ratings. I personally would be proud of it. And Barbra is too!
NOTES:
This televison special has never been released on Home Video.
Bootleg copies of this special have circulated through the fans.
If you'd like a copy of this special, please feel free to email me.
The Belle of 14th Street Song List:
I Don't Care
You're The Apple Of My Eye
My Sweet Little Alice Blue Gown
Goin' South
Four Americans
Libestraum
Mother Macree
My Melancholy Baby
Everybody Wants My Baby (But My Baby Don't Want Nobody But Me)
I'm Always Chasing Rainbows
My Buddy / How About Me?
A Good Man Is Hard To Find / Some Of These Days
Put Your Arms Around Me Honey
SONG NOTES:
Barbra does not appear on tracks in italics.
Songs in BOLD are not available for purchase anywhere.

©1996-2001 The Ultimate Barbra Streisand Experience. Heath David Castor, Webmaster.