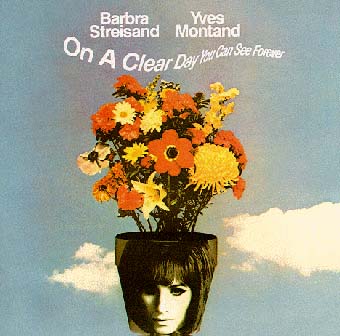 Barbra plays Daisy Gamble, a 22 year old college student. A student with a smoking addiction that her boyfriend, Warren, disapproves of. So, to stop smoking, she decides to visit the class of Dr. Marc Chabot. As Dr. Chabot hypnotises a student as a demonstration, Daisy is inadvertantly hypnotised as well.Dr. Chabot unhypnotises Daisy and she goes on her way.

Outside his classroom on his way back to his office where Daisy is waiting. Daisy explains to him, as they enter his office, her reasons for seeing him. She needs to be hypnotised out of smoking. As she so perfectly words it, "She's an addicted addict." Dr. Chabot agress to help Daisy and he hypnotises her.

As Daisy is under hypnosis, Dr. Chabot discovers that she may have lived before in England. Dr. Chabot is skeptical of the theory of reincarnation. So he continues his sessions with Daisy to try and uncover the truth. All the time he becomes more and more fascinated by Daisy's past-life self, Melinda.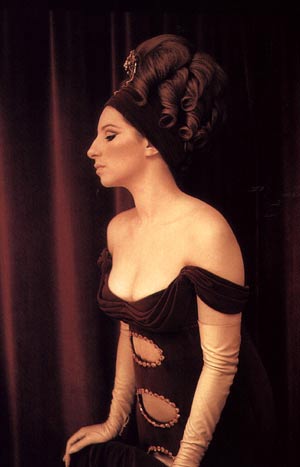 Daisy is falling more and more for Dr. Chabot, compltely oblivious to the fact that he doesn't even like her. He likes who she once was.
After many hours of therapy, Dr. Chabot is convinced that reincarnation does exist and decides to go public with the information. Daisy has no clue he is talking about her. Dr. Chabot almost gets fired from his position at the college for coming out into the open with his findings.
Concerned about Dr. Chabot, she goes to check on him. She discovers their sessions on tapes there. She is shocked and amazed. She refuses to see Dr. Chabot anymore. She also tells Warren to hit the road.
Dr. Chabot apologizes to Daisy and tells her that "On A Clear Day You Can See Forever." As the film finishes, Daisy has an epiphany. She needs to be who she is, not what someone wants her to be.
CAST
Barbra Streisand .... Daisy Gamble / Melinda
Yves Montand .... Dr. Marc Chabot
Bob Newhart .... Dr. Mason Hume
Larry Blyden .... Warren Pratt
Simon Oakland .... Dr. Conrad Fuller
Jack Nicholson .... Tad Pringle
John Richardson .... Robert Tentrees
Pamela Brown .... Mrs. Fitzherbert
Irene Handl .... Winnie Wainwhisle
Roy Kinnear .... Prince Regent
Peter Crowcroft .... Divorce Attorney
Byron Webster .... Prosecuting Attorney
Mabel Albertson .... Mrs. Hatch
Laurie Main .... Lord Percy
Kermit Murdock .... Hoyt III
Elaine Giftos .... Muriel
John Le Mesurier .... Pelham
Angela Pringle .... Diana Smallwood
Leon Ames .... Clews
Paul Camen .... Millard
George Neise .... Wytelipt
Tony Colti .... Preston
Jeannie Berlin .... Girl in orphanage
Richard Kiel .... Blacksmith
Judith Lowry
DIRECTOR
Vincente Minnelli
WRITER
Alan Jay Lerner
PRODUCER
Howard W. Koch
MUSIC
Burton Lane .... Music
Alan Jay Lerner .... Lyrics
Nelson Riddle .... Musical Director
CINEMATOGRAPHER
Harry Stradling Sr.
FILM EDITOR
David Bretherton
PRODUCTION DESIGNER
John DeCuir
ART DIRECTION
John DeCuir (as John de Cuir)
SET DECORATORS
Raphael Bretton
George James Hopkins
COSTUME DESIGNERS
Cecil Beaton
Arnold Scaasi
MAKE UP
Harry Ray
ASSISTANT DIRECTORS
William McGarry
John M. Poer (DGA trainee)
William R. Poole
CHOROGRAPHER
Howard Jeffrey
TECHNICAL INFORMATION
PRODUCTION COMPANY: Paramount Pictures [us]
RUNNING TIME: USA:129
COLOR
SOUND MIX: Originally Mono / Remastered Stereo for Laserdisc
WIDESCREEN ASPECT RATIO: 2.35:1
MPAA RATING: G
COMMENTARY:
This is truly a great film. The musical numbers are incredible. It is well written and overall completely enjoyable. Several scenes were deleted to make the film run more smoothly. Four musical numbers were trimmed: "Wait 'Til We're 65" by Barbra and Larry Blyden, "Who Is There Among Us Who Knows?" by Jack Nicholson, "She Isn't You" by Yves Montand and "ESP" by Barbra. Three songs, "Who Is There Among Us Who Knows?," "She Isn't You," "She Isn't You" and "Wait 'Til We're 65" were issued on bootleg recordings released over the years. Including the SELECTIONS FROM ON A CLEAR DAY YOU CAN SEE FOREVER recording.
NOTES:
This feature is only available on VHS. It has been edited from its original format. It has been edited down to fit a normal television screen.
The unedited widescreen edition was available on Laserdisc, but is no longer in print.
No current plans exist to release this title on DVD.
To purchase this film on VHS, please click on the link below to visit amazon.com.

©1996-2001 The Ultimate Barbra Streisand Experience. Heath David Castor, Webmaster.