The Concert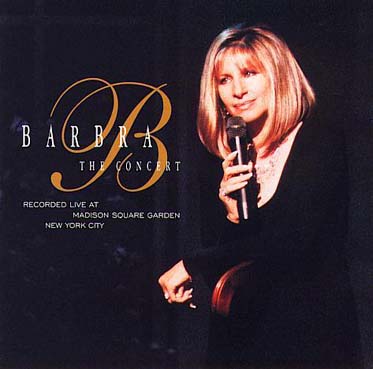 Columbia 66109 - 1994
Producers: Barbra Streisand and Jay Landers.
DISC ONE
Overture (5:47)
As If We Never Said Goodbye (4:20)
Opening Remarks (1:14)
I'm Still Here / Everybody Says Don't / Don't Rain On My Parade (4:26)
Can't Help Lovin' That Man (4:29)
I'll Know (with Marlon Brando) (2:48)
People (4:18)
Lover Man (Oh, Where Can You Be?) (1:18)
Therapist Dialogue #1 (1:25)
Will He Like Me? (1:59)
Therapist Dialogue #2 (1:01)
He Touched Me (2:52)
Evergreen (Love Theme from "A Star Is Born") (3:18)
Therapist Dialogue #3 (1:55)
The Man That Got Away (4:06)
On A Clear Day (You Can See Forever) (3:29)
DISC TWO
Entr'acte (3:02)
The Way We Were (3:16)
You Don't Bring Me Flowers (4:45)
Lazy Afternoon (4:30)
Disney Medley (Once Upon A Dream / When You Wish Upon A Star / Someday My Prince Will Come) (5:07)
Not While I'm Around (3:04)
Ordinary Miracles (4:35)
YENTL Medley (Where Is It Written? / Papa, Can You Hear Me? / Will Someone Ever Look At Me That Way? / A Piece Of Sky) (9:19)
Happy Days Are Here Again (3:40)
My Man (3:19)
For All We Know (5:05)
Somewhere (5:16)
NOTES:
Barbra does not appear on any tracks in italics.
Recorded live at Madison Square Garden in New York, June 1994. Disc Two, Track Five recorded at MGM Grand Las Vegas, Janurary 1 1994.
One single was released for ths album, "Ordinary Miracles." It contained the Studio Version and Live at the MGM Grand Version.
A promotional Single was released for "Evergreen."
To Purchase this album, please click on the banner below to visit amazon.com.





©1996-2001 The Ultimate Barbra Streisand Experience. Heath David Castor, Webmaster.
'); } e = getfclocale(); if(FCLanguage == 'ad' && document.cookie.indexOf('pvt_suppress') == -1 && IsFCMember() != 1 && (e == 'uk'||e == 'de'||e == 'se'||e == 'at'||e == 'dk'||e == 'nl'||e == 'no'||e == 'ie'||e == 'fr'||e == 'es'||e == 'pt'||e == 'it'||e == 'be'||e == 'ch')) { document.write(''); } // -->