Live Concert At The Forum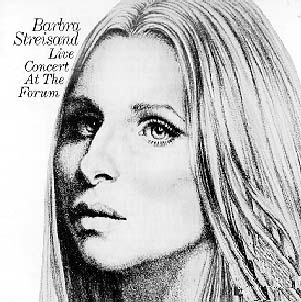 Columbia 31760 - 1972
Producer: Bill Schnee.

Sing / Make Your Own Kind Of Music (4:20)
Starting Here, Starting Now (2:43)
Don't Rain On My Parade (2:38)
Monologue (3:09)
On A Clear Day (You Can See Forever) (1:53)
Sweet Inspiration / Where You Lead (6:18)
Didn't We (3:13)
My Man (4:14)
Stoney End (3:05)
Sing / Happy Days Are Here Again (5:27)
People (3:25)
NOTES:
This album spawned a couple of singles. One was released commercially and it contained a shoerter version of "Sweet Inspiration / Where You Lead" (6:01) and "Didn't We (2:24.) The other single was a Promotional single for "Sing / Make Your Own Kind Of Music" with "On A Clear Day (You Can See Forever)."
A Quadraphoinc Album was also released which featured an extended (by one line) Monologue.
When the new Digital Remaster Compact Disc version was released, the entire concert was restored and we now have all of the monologue and the first release of the complete "Sweet Inspiration / Where You Lead" bringing it to a new length of 7:45. Due to the constraints of vinyl, it was neccessary to trim the final reprise of the song to fade out for thend of side one.
This is a benefit concert (a Democratic Fundraiser billed as "Four for McGovern") where the ushers were people such as Goldie Hawn and Warren Beatty.
Barbra was not the only performer that night. In fact she closed the show. Her "opening acts" were Carole King and James Taylor followed by Quincy Jones and his 31 piece orchestra with Clydie King and Her Sweet Things. Clydie King would rejoin Barbra in 1976 as one of the Oreos in "A Star Is Born."
This is also the only time Barbra ever performed her smash crossover pop-rock hit 'Stoney End" live.
To purchase this collection, please click on the banner below to visit amazon.com.





©1996-2001 The Ultimate Barbra Streisand Experience. Heath David Castor, Webmaster.