Highlights from Just for the record...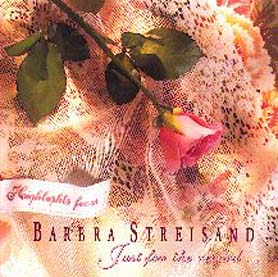 Columbia 52849 - 1992
Producers: Barbra Streisand, Martin Erlichman, and John Arrias.
You'll Never Know (3:00)
A Sleepin' Bee (3:41)
Miss Marmelstein (3:21)
I Hate Music (1:13)
Nobody's Heart (Belongs To Me) (2:12)
Cry Me A River (3:58)
Get Happy / Happy Days Are Here Again (with Judy Garland) (2:22)
People (3:40)
MEDLEY: Second Hand Rose (with Barbra's Mother) / Give Me The Simple Life / Anyplace I Hang My Hat Is Home / Nobody Knows You When Your Down And Out / Second Hand Rose / The Best Things In Life Are Free (4:28)
You Wanna Bet (2:30)
Harold Arlen - Come Rain Or Come Shine (2:48)
Don Rickles Monologue (0:59)
Richard Rodgers - The Sweetest Sounds (1:59)
You're The Top (with Ryan O'Neal) (4:09)
What Are You Doing The Rest Of Your Life? (with Michel Legrand) (3:37)
Cryin' Time (with Ray Charles) (2:18)
A Quiet Thing / There Won't Be Trumpets (5:20)
Evergreen (Demo / Soundtrack Version) (3:15)
Between Yesterday And Tomorrow (3:33)
You Don't Bring Me Flowers (with Neil Diamond) (3:38)
Papa, Can You Hear Me? (Demo) (3:36)
I Know Him So Well (4:15)
Warm All Over (2:51)
You'll Never Know (Duet) (4:07)
NOTES:
Barbra does not appear on any tracks in italics.
All tracks were previously issued on "Just for the record..." in 1991.
This disc was released for those who did not buy the complete 4 disc set at its original price of $89.99.
Liner notes are condensed versions of those written by Barbra for the box set.
To purchase this album, please click on the banner to visit amazon.com.





©1996-2001 The Ultimate Barbra Streisand Experience. Heath David Castor, Webmaster.
'); } e = getfclocale(); if(FCLanguage == 'ad' && document.cookie.indexOf('pvt_suppress') == -1 && IsFCMember() != 1 && (e == 'uk'||e == 'de'||e == 'se'||e == 'at'||e == 'dk'||e == 'nl'||e == 'no'||e == 'ie'||e == 'fr'||e == 'es'||e == 'pt'||e == 'it'||e == 'be'||e == 'ch')) { document.write(''); } // -->