The Legend Of Barbra Streisand: The Woman And Her Music - In Her Own Words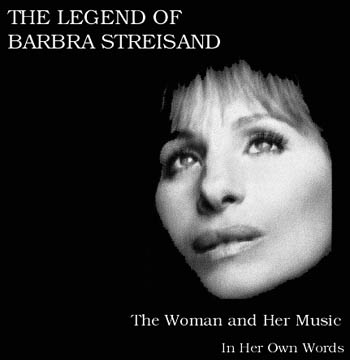 Columbia A2S 1779 - 1983
Producers: Songs: Various. Special: Unknown.
ALBUM ONE:
"I always wanted to be somebody..." (1:24)
I'm Five (0:33)
"The girl with the good voice..." (0:45)
"I always felt different..." (0:45)
People (3:20)
"I discovered Russian literature..." (0:48)
The Minute Waltz (1:54)
"I wanted to be Eleanora Duza..." (0:50)
Where Am I Going? (2:37)
TEASER ANNOUNCEMENT I (0:29)
"I was like a vagabond..." (1:55)
Second Hand Rose (2:07)
"I believe in the audience..." (0:59)
My Man (2:46)
"I kind of lost my adolesence..." (0:42)
He Touched Me (3:06)
"I was older then than I am now..." (0:44)
"I remember bad things..." (1:41)
Free Again (3:22)
"I never became part of the social life..." (0:59)
Sam, You Made The Pants Too Long (2:02)
"I had never had a screen test..." (1:48)
"In art you cannot lie..." (0:45)
The Way We Were (2:54)
"I believe in what is natural..." (1:35)
All In Love Is Fair (3:16)
"The feeling has to come from a deeper place..." (0:38)
Love Theme from "A Star Is Born" (Evergreen) (2:44)
TEASER ANNOUNCEMENT II / "You don't want to do another ethnic movie..." (3:03)

ALBUM TWO
"I'm a nice Jewish girl..." (0:50)
My Heart Belongs To Me (3:01)
"I've become a media drop-out..." (0:38)
You Don't Bring Me Flowers (Duet with Neil Diamond) (3:03)
"I do it till it satisfies me..." (0:26)
Songbird (3:25)
TEASER ANNOUNCEMENT III (0:14)
"I always think the audience is going to walk out..." (1:06)
No More Tears (Enough Is Enough) (Duet with Donna Summer) (7" Version) (4:18)
"If a woman knows what she wants, its considered out of place..." (0:52)
Woman In Love (3:23)
"Men are threatened by powerful women..." (0:42)
Guilty (Duet with Barry Gibb) (3:41)
TEASER ANNOUNCEMENT IV (0:36)
"What do I know about writing?" (1:53)
Papa, Can You Hear Me? (3:25)
"YENTL is a love story..." (0:39)
The Way He Makes Me Feel (Studio Version) (3:38)
TEASER ANNOUNCEMENT V (0:13)
"The decisions had to be made..." (0:46)
Where Is It Written? (3:57)
"I knew what take is best..." (1:48)
A Piece of Sky (5:28)
NOTES:
This is a Radio Special that was released on a Promotional 2-LP set on vinyl in 1983 to help with promotions for YENTL.
All tracsk listed with "quotes" are interview tracks. Many songs have Barbra speaking over their intros or outros. Really great stuff!
This special has nver been released on CD or Cassette. Nor has it been released commercailly.
For an excellent quality 2 CD-R set of this Radio special, please feel free to email me.



©1996-2001 The Ultimate Barbra Streisand Experience. Heath David Castor, Webmaster.