Memories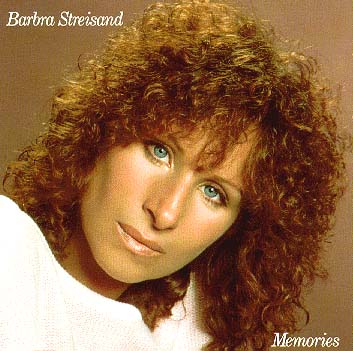 Columbia 37678 - November 1981
Producers: Andrew Lloyd Webber, Bob Gaudio, Gary Klein, Charlie Calello, Barbra Streisand, Phil Ramone, Barry Gibb, Albhy Galuten, Karl Richardson, and Marty Paich.
Memory (The Theme from Andrew Lloyd Webber's Musical "Cats") (3:52)
You Don't Bring Me Flowers (Duet with Neil Diamond) (3:25)
My Heart Belongs To Me (3:22)
New York State Of Mind (4:46)
No More Tears (Enough Is Enough) (Duet With Donna Summer) (4:44)
Comin' In And Out Of Your Life (4:08)
Evergreen (Love Theme From "A Star Is Born") (3:06)
Lost Inside Of You (3:59)
The Love Inside (5:05)
The Way We Were (3:30)
NOTES:
All but 3 songs on this album were previously released. This is sort of a "Greatest Hits 2 1/2."
Two Singles were released from this album, "Memory," and "Comin' In And Out Of Your Life."
A Music Video was filmed for "Memory" but was not released for viewing by the general public. The video featured a different mix of the song.
"Lost Inside Of You" is an alternate version of the one recorded for A STAR IS BORN. This version was the third song recorded in early-mid 1981 for inclusion on this collection.
"No More Tears (Enough Is Enough)" is presented here in its edited 7" single version.
To purchase this album, please click on the banner below to visit amazon.com.





©1996-2001 The Ultimate Barbra Streisand Experience. Heath David Castor, Webmaster.