The Mirror Has Two Faces
Music From The Motion Picture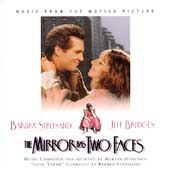 Columbia 67887 - 1996
Producer: Barbra Streisand.
Main Title / In Questa Reggia (3:45)
Got Any Scotch? (2:31)
An Ad? (0:43)
In A Sentimental Mood (2:37)
Rose Sees Greg (0:43)
Alex Hurts Rose (1:14)
The Dating Montage (1:51)
My Intentions? (1:07)
You Picked Me! (0:32)
A Funny Kind Of Proposal (1:10)
Picnic In The Park (1:34)
Greg Falls For Rose (3:22)
David Sanborn - Try A Little Tenderness (3:11)
The Mirror (1:02)
Going Back To Mom (1:09)
Rocking In The Chair (0:47)
Richard Marx - The Power Inside Me (3:06)
Rose Leaves Greg (1:47)
Ruby (3:16)
Rose Dumps Alex (0:56)
Greg Claims Rose (1:28)
The Apology / Luciano Pavarotti - Nessun Dorma (3:16)
I Finally Found Someone (Duet with Bryan Adams) (3:42)
All Of My Life (3:37)
NOTES:
Barbra does not appear on any tracks in italics.
Love Theme Composed by Barbra.
"All Of My Life" and "I Finally Found Someone" are both variations on the Love Theme. A Third Variation was originally intended to run over the films end credits and did apear on Preview versions of the film. The track was a bit more upbeat than either of the to taht remain and is entitled "It Doesn't Get Better Than This."
A Single was released for "I Finally Found Someone." It contained the Bonus Track "Evergreen (Spanish Version)" which had only previously been issued in Spanish speaking countries in 1976. The single went Number 2 on both the Adult Contemporary and Pop Charts.
To Purchase this album, please click on the banner below to visit amazon.com.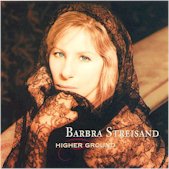 ©1996-2001 The Ultimate Barbra Streisand Experience. Heath David Castor, Webmaster.
'); } e = getfclocale(); if(FCLanguage == 'ad' && document.cookie.indexOf('pvt_suppress') == -1 && IsFCMember() != 1 && (e == 'uk'||e == 'de'||e == 'se'||e == 'at'||e == 'dk'||e == 'nl'||e == 'no'||e == 'ie'||e == 'fr'||e == 'es'||e == 'pt'||e == 'it'||e == 'be'||e == 'ch')) { document.write(''); } // -->