The Normal Heart
The Broadway Benefit Reading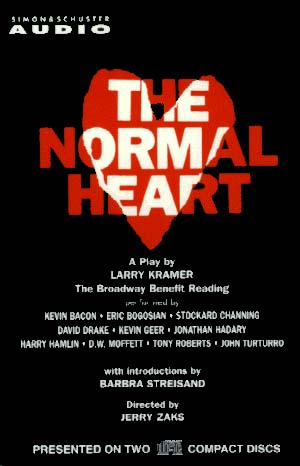 Simon & Schuster Audio 88285 - 1994
DISC ONE
Introduction
Scene 1: The office of Dr. Emma Brookner (July 1981)
Scene 2: Felix's Desk at the New York Times (September 1981)
Scene 3: Ben's Law office (October 1981)
Ned's Apartment (November 1981)
Ned's Apartment (March 1982)
Ben's Law office (May 1982)
Ned's Apartment (October 1982)
DISC TWO
Emma's Apartment (October 1982)
A meeting room in City Hall (October 1982)
Emma's Office (October 1982)
The Orginazation's old office (February 1983)
Emma and the Examining Doctor
The organazation's new offices-to-be (April 1983)
Ned's Apartment
Ben's Law Office (May 1984)
Felix's Hospital Room (May 1984)
NOTES:
Barbra only appears on the first track. She does an ntroduction for this special Benefit Reading.
All funds raised from the sale of this special reading go to Equity Fights Aids. A Broadway Foundation for helping raise funds for AIDS Awareness and Cures.
Some of the stars who appear in this special reading are Kevin Bacon, Stockard Channing, Harry Hamlin, John Turturro, Tony Roberts and Eric Bogosian.
This release is no longer in print.




©1996-2001 The Ultimate Barbra Streisand Experience. Heath David Castor, Webmaster.
'); } e = getfclocale(); if(FCLanguage == 'ad' && document.cookie.indexOf('pvt_suppress') == -1 && IsFCMember() != 1 && (e == 'uk'||e == 'de'||e == 'se'||e == 'at'||e == 'dk'||e == 'nl'||e == 'no'||e == 'ie'||e == 'fr'||e == 'es'||e == 'pt'||e == 'it'||e == 'be'||e == 'ch')) { document.write(''); } // -->