Stoney End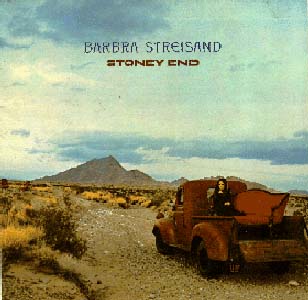 Columbia 30378 - February 1971
Producer: Richard Perry.

I Don't Know Where I Stand (3:45)
Hands Off The Man (Flim Flam Man) (2:33)
If You Could Read My Mind (3:50)
Just A Little Lovin' (Early In The Mornin') (2:30)
Let Me Go (2:21)
Stoney End (2:59)
No Easy Way Down (3:50)
Time And Love (3:47)
Maybe (3:00)
Free The People (3:18)
I'll Be Home (2:53)
NOTES:
Barbra had originally planned to release another album when Columbia Records urged her to make this one instead.
Three singles were relased from this album, "Stoney End," "Time and Love," and "Hands Off The Man (Flim Flam Man)."
The single version for "Time and Love" is different to the album version. It contains an alternate vocal and music mix.
The album reached number 10 on the Billboard music charts in February 1971.
Quadraphonic Album also released but is no longer in print.
To purchase this album, please click the banner below to visit amazon.com.





©1996-2001 The Ultimate Barbra Streisand Experience. Heath David Castor, Webmaster.