Till I Loved You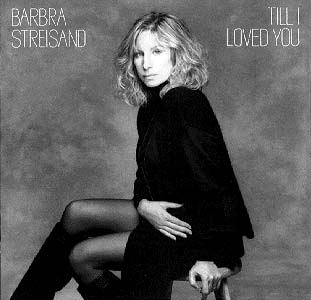 Columbia 40880 - 1988
Producers: Quincy Jones, Barbra Streisand, Phil Ramone, Burt Bacharach, Carole Bayer Sager, Denny Diante, Glen Ballard and Cliff Magness.
The Places You Find Love (5:09)
On My Way To YOu (3:45)
Till I Loved You (Duet with Don Johnson) (5:10)
Love Light (4:33)
All I Ask Of You (from "The Phantom of the Opera") (4:02)
You And Me For Always (3:50)
Why Let It Go? (4:25)
Two People (3:40)
What Were We Thinking Of (4:28)
Some Good Things Never Last (4:21)
One More Time Around (3:44)
NOTES:
"The Places You Find Love" features an all-star Backup group: Luther Vandross, Dionne Warwick, James Ingram, Howard Hewitt, Jennifer Holliday, Peggi Blu, Clif Magness, Seidah Garret and Edie Lehman. The wonderful track was produced by Quincy Jones.
Three singles were released for this album, "Till I Loved You," "All I Ask Of You," and "What Were We Thinking of."
"Till I Loved You" was released on 7" and Cassette Singles commercially in an edited form with a play time of 4:48. There was also a CD Single released to Radio Stations and DJs only that contained two edit versions. The first being the "Short Version" (4:15) and the second being the "Long Version" (4:48).
To purchase this album, please click the banner below to visit amazon.com.





©1996-2001 The Ultimate Barbra Streisand Experience. Heath David Castor, Webmaster.