Lazy Afternoon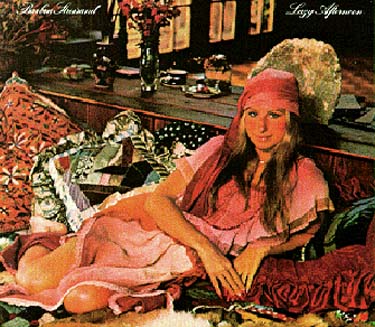 Columbia 33815 - 1975
Producer: Jeffrey Lesser and Rupert Holmes.

Lazy Afternoon (3:47)
My Father's Song (3:52)
By The Way (2:55)
Shake Me, Wake Me (When It's Over) (2:50)
I Never Had It So Good (3:35)
Letters That Cross In The Mail (3:36)
You And I (4:16)
Moanin' Low (4:25)
A Child Is Born (2:48)
Widescreen (3:59)
NOTES:
"Shake Me, Wake Me (When Its Over)" was released on a 7" and promotional 12" single with a special extended "Long Version" (4:55.) Its really a good mix!
"Widescreen" was a song Barbra heard on producer Rupert Holmes' album of the same name.
Francis Ford Coppola suggested that Barbra sing the song "Lazy Afternoon" from the musical "The Golden Apple" over sukiyaki.
Music for "By The Way" was composed by Barbra.
Barbra actually admits to liking the "disco" version of "Shake Me, Wake Me (When It's Over)" in the album's liner notes! (That was then anyways!)
"A Child Is Born" was composed by Dave Grusin to underscore the abortion scene in "Up The Sandbox" but ultimately hit the cutting room floor. Ironic that music for an abortion sequence became a song entitled "A Child Is Born."
To purchase this album, please click on the banner below to visit amazon.com.





©1996-2001 The Ultimate Barbra Streisand Experience. Heath David Castor, Webmaster.