The Main Event
Music from the Original Motion Picture Soundtrack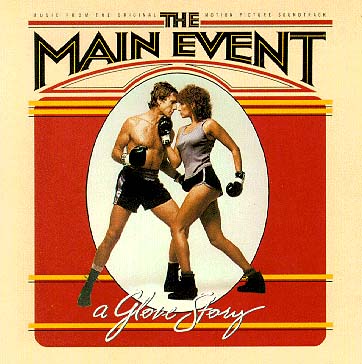 Columbia 57376 - 1979
Producers: Barwood Films, Ltd. and Gary Le Mel
The Main Event / Fight (11:39)
The Body Shop (5:14)
The Main Event / Fight (Short Version) (4:55)
Copeland Meets The Coasters / Get A Job (0:57)
Big Girls Don't Cry (2:27)
It's Your Foot Again (3:09)
Angry Eyes (2:25)
I'd Clean A Fish For You (1:03)
The Main Event (Ballad Version) (4:16)
NOTES:
Barbra does not appear on tracks in italics.
This soundtrack contains 3 versions of "The Main Event." 2 of which appeared on singles. The short version was released on 7" singles paired with "Short Version" (3:59) and the other was with "Instrumental Version" (4:59.) The 12" single version appears as Track One on this album.
To purchase this album, please click on the banner below to visit amazon.com.





©1996-2001 The Ultimate Barbra Streisand Experience. Heath David Castor, Webmaster.
'); } e = getfclocale(); if(FCLanguage == 'ad' && document.cookie.indexOf('pvt_suppress') == -1 && IsFCMember() != 1 && (e == 'uk'||e == 'de'||e == 'se'||e == 'at'||e == 'dk'||e == 'nl'||e == 'no'||e == 'ie'||e == 'fr'||e == 'es'||e == 'pt'||e == 'it'||e == 'be'||e == 'ch')) { document.write(''); } // -->