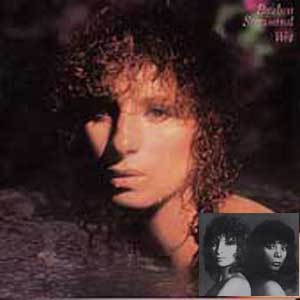 Wet
Columbia 36258
Wet (3:56)
Come Rain Or Come Shine (4:443)
Splish Splash (4:15)
On Rainy Afternoons (3:08)
After The Rain (3:40)
No More Tears (Enough Is Enough) (Duet with Donna Summer) (8:19)
Niagra (3:30)
I Ain't Gonna Cry Tonight (5:00)
Kiss Me In The Ran (4:16)
NOTES:
Produced by Gary Klein and Charles Koppelman, with asist fo Charlie Calello and Giorgio Moroder.
Singles were relesed for "Kiss Me In The Rain" and"No More Tears (Enough Is Enough) (Duet with Donna Summer)."
"No More Tears (Enough Is Enough) (Duet with Donna Summer)" wasreleased in a edite form n 7" sigle (4:42) which was later issued on Babra's album Memories. It was also released on a 12" single in an extended remix version (11:44) which was released by both Casablanca (Donna's label) and Columbia. The Casablanca releases all list Donna Summer first whereas the Columbia Releases list Babra first. The 12" Version of the single was released commercially o the Donna Summer albums "On The Radio: Greatest Hits Volumes 1 & 2" and "The Dance Collectin." It was also recently re-released on a limited edition CD Single which is now long out of print. For help in locating this 12" single, try Vinyl Vendors and eBay.
David Foster aranged "Splish Splash."
Barbra gives a "Special Thanks to Jason Gould for his opinions." On the liner notes of this album.
To purchase Barbra's album, or Donna's "The Dance Collection," please click on the banner below to visit amazon.com.




©1996-2001 The Ultimate Barbra Streisand Experience. Heath David Castor, Webmaster.