The Concert - Highlights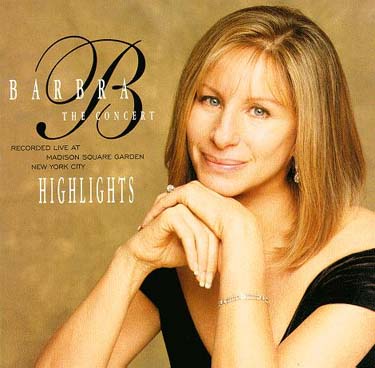 Columbia 67100 - 1995
Producers: Barbra Streisand and Jay Landers.
Overture (5:22)
As If We Never Said Goodbye (4:16)
Opening Remarks (0:26)
I'm Still Here / Everybody Says Don't / Don't Rain On My Parade (4:12)
Can't Help Lovin' That Man (4:26)
I'll Know (with Marlon Brando) (2:49)
People (4:06)
Will He Like Me? (1:58)
He Touched Me (2:44)
Evergreen (Love Theme from "A Star Is Born") (3:08)
The Man That Got Away (3:40)
The Way We Were (3:11)
You Don't Bring Me Flowers (4:39)
Lazy Afternoon (3:17)
Not While I'm Around (3:01)
Ordinary Miracles (4:27)
YENTL Medley (Where Is It Written? / Papa, Can You Hear Me? / Will Someone Ever Look At Me That Way? / A Piece Of Sky) (9:01)
Happy Days Are Here Again (3:41)
My Man (4:17)
Somewhere (5:08)
NOTES:
Barbra does not appear on any tracks in italics.
This is an edited version of "The Concert."
This single disc version contains all but 4 of the songs from the double disc set. Many of Barbra remarks and monologues have been trimmed to pack as much onto this album as ossible.
To Purchase this album, please click on the banner below to visit amazon.com.





©1996-2001 The Ultimate Barbra Streisand Experience. Heath David Castor, Webmaster.
'); } e = getfclocale(); if(FCLanguage == 'ad' && document.cookie.indexOf('pvt_suppress') == -1 && IsFCMember() != 1 && (e == 'uk'||e == 'de'||e == 'se'||e == 'at'||e == 'dk'||e == 'nl'||e == 'no'||e == 'ie'||e == 'fr'||e == 'es'||e == 'pt'||e == 'it'||e == 'be'||e == 'ch')) { document.write(''); } // -->