Donna Summer
On The Radio - Greatest Hits Volumes I & II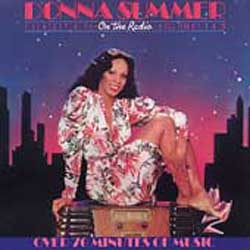 Casablanca 822558 - 1979
Producer: Giorgio Moroder
On The Radio (Theme from the Motion Picture "Foxes")
Love To Love You Baby
Try Me, I Know We Can Make It
I Feel Love
Our Love
I Remember Yesterady
I Love You
Heaven Knows
Last Dance
MacArthur Park
Hot Stuff
Bad Girls
Dim All The Lights
Sunset People
No More Tears (Enough Is Enough) (Duet with Barbra Streisand) (12" Version)
On The Radio (Long Version)
NOTES:
Barbra does not appear on tracks in italics.
This is Donna Summer's double album Greatest Hits Collection. Ironically, "No More Tears (Enough Is Enough)" is one of the only tracks on this collection to appear in a Long Format. The first 14 tracks on this collection are seriously edited and condensed from their original form.
This was released as 2 Double Records in 1979. It now appears on 1 CD.
If you aren't a fan of Donna's you might want to try this album. You get the 12" Version of "No More Tears" and you get a fair sampling of Donna's career.
There was a 12" Single released for "No More Tears (Enough Is Enough)" which featured the 11:44 version heard here.
To purchase this album, please click on the banner below to visit amazon.com.





©1996-2001 The Ultimate Barbra Streisand Experience. Heath David Castor, Webmaster.
'); } e = getfclocale(); if(FCLanguage == 'ad' && document.cookie.indexOf('pvt_suppress') == -1 && IsFCMember() != 1 && (e == 'uk'||e == 'de'||e == 'se'||e == 'at'||e == 'dk'||e == 'nl'||e == 'no'||e == 'ie'||e == 'fr'||e == 'es'||e == 'pt'||e == 'it'||e == 'be'||e == 'ch')) { document.write(''); } // -->