Guilty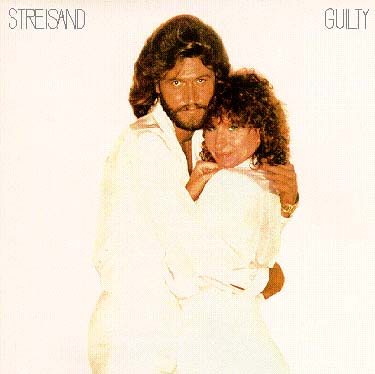 Columbia 36750 - 1980
Producers: Barry Gibb, Albhy Galuten & Karl Richardson. Executive Producer: Charles Koppelman.
Guilty (Duet with Barry Gibb) (4:23)
Woman In Love (3:50)
Run Wild (4:06)
Promises (4:21)
The Love Inside (5:08)
What Kind Of Fool (Duet With Barry Gibb) (4:07)
Life Story (4:38)
Never Give Up (3:45)
Make It Like A Memory (7:28)
NOTES:
The entire album was written by The Brothers Gibb (Barry, Robin, and Maurice a.k.a. The Bee Gees)
Barry Gibb had already recorded all background vocals and music tracks by the time Barbra got together with him to record her vocals. Thanks to that, the entire album took less time to record than the 8:19 song "No More Tears (Enough Is Enough)" from the WET album.
Four singles were released from this album, "Woman In Love," "Guilty," "What Kind Of Fool," and "Promises." Other singles were released throughout the world which included "Life Story," "Run Wild," and "The Love Inside."
"Promises" was released in 7" single form in a remixed version with a playing time of 3:53. This is an edit version of the 12" single that was also released with a play time of 5:50. For assistance in purchasing this 12" single, try Vinyl Vendors or eBay.
"Make It Like A Memory" was released as the B-Side of both the 7" and 12" singles of "Promises" in an edited form running only 3:39.
The 12" Version of "Promises" was re-released in 1987 on a special 12" single that also included the 12" version of "The Main Event / Fight."
To purchase this album, please click on the banner to visit amazon.com.




©1996-2001 The Ultimate Barbra Streisand Experience. Heath David Castor, Webmaster.
'); } e = getfclocale(); if(FCLanguage == 'ad' && document.cookie.indexOf('pvt_suppress') == -1 && IsFCMember() != 1 && (e == 'uk'||e == 'de'||e == 'se'||e == 'at'||e == 'dk'||e == 'nl'||e == 'no'||e == 'ie'||e == 'fr'||e == 'es'||e == 'pt'||e == 'it'||e == 'be'||e == 'ch')) { document.write(''); } // -->