Ordinary Miracles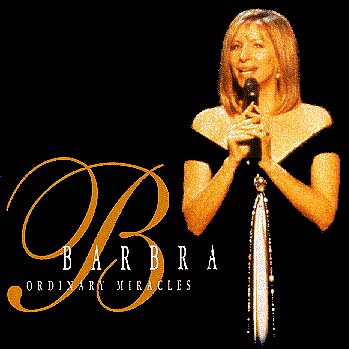 Columbia - 1994
Producers: Various (Complete List Coming Soon)

Ordinary Miracles (3:57)
As If We Never Said Goodbye (4:44)
People (3:41)
Don't Rain On My Parade (2:44)
On A Clear Day (You Can See Forever) (2:10)
The Way We Were (3:31)
Evergreen (Love Theme From "A Star Is Born") (3:05)
My Heart Belongs To Me (3:22)
Songbird (3:45)
You Don't Bring Me Flowers (Duet With Neil Diamond) (3:25)
Kiss Me In The Rain (4:21)
Woman In Love (3:50)
Comin' In And Out Of Your Life (4:10)
The Way He Makes Me Feel (Studio Version) (4:10)
Somewhere (from "West Side Story") (4:56)
All I Ask Of You (from "The Phantom Of The Opera") (4:02)
We're Not Makin' Love Anymore (5:34)
For All We Know (4:13)
Ordinary Miracles (Live) (4:27)
NOTES:
This is an officially released Promotional Sampler Disc celebrating Barbra's US Tour in 1994.
This disc is relatively easy to find. If you are looking for one, try eBay.
The two versions of "Ordinary Miracles" on this disc are the Studio Version and the Live At The MGM Grand versions which were released commercially on A CDSingle (44K 77534) in 1994.

©1996-2001 The Ultimate Barbra Streisand Experience. Heath David Castor, Webmaster.